Coton, acrylique, laine, acier inoxydable
Tissage sur métier Jacquard
Crédit photo: Marc Andre Jesus (photos 1, 3, 4); Denis Baribault (photo 2)
Préliminaires no.4 expose des tubes dans un tube, tous en sergées 2/2.  Une figure en huit à carreaux juxtaposé à deux tubes en tweed de coton bouclé superposés, à l'intérieur d'un tube en Prince de Galles. L'œuvre est tissé en un seul morceau avec 6 navettes selon une séquence établie, les fils ne peuvent pas se croiser car les tubes doivent demeurer distincts.
Preliminary no.4, 2018 
​​​​​​​
Cotton, wool, acrylic and stainless steel
Handweaving on a digital Jacquard loom
Photo credit: Marc Andre Jesus (photos 1, 3, 4); Denis Baribault (photo 2)
Preliminary no.4 is woven in 2/2 twill.  Inside a Prince of Wales tube, a Buffalo check figure-eight is juxtaposed with a set of layered cotton boucle tweed tubes. The work is woven in a single piece with 6 shuttles according to an established sequence, the threads cannot cross for the tubes must remain distinct.
Préliminaire no.4 et Préliminaire no.0, 2018
Vue d'exposition à Materia, Québec, QC
Coton, acrylique, laine, acier inoxydable; Coton, acier inoxydable
Tissage sur métier Jacquard
35cm X 51cm X 1cm; 29cm X 53,4cm
Préliminaires est une série de formes tissées qui sont présentées telles quelles, sans coutures. Le point de départ est l'enfilage de la chaine du métier à tisser, soit 1728 fils en alternance blanc et noir, sur une largeur de 50 cm. Ces constructions multicouches, à plis et tubulaires explorent les potentialités du tissage 3D sur un métier conçu pour le 2D. Une tige métallique est insérée en début de tissage pour montrer le droit fil et établir un repaire du plan bidimensionnel. La souplesse du textile permet un accrochage différent à chaque nouvelle exposition de la pièce. Ce corpus se réfère aux motifs teints en fil puisant dans le patrimoine textile décoratif et vestimentaire. Le spectateur entre en relation avec la pièce sculpturale par le motif qui lui rappelle un souvenir.
Préliminaire no.0 vient créer un silence, un repaire qui démontre l'enfilage du métier à tisser et la division des fils par le numérique binaire.
Preliminary No.4 and Preliminary No.0, 2018
Exhibition view at Materia, Quebec City, QC
Cotton, acrylic, wool, stainless steel; Cotton, stainless steel
Hand weaving on a digital Jacquard loom
35cm x 51cm x 1cm; 29cm x 53.4cm
Preliminaries is a series of woven shapes that are presented as is, seamless. The starting point is the warp threading of the loom, 1728 threads alternating white and black, over a width of 50 cm. These multi-layered, folded and tubular constructions explore the potential of 3D weaving on a loom designed for 2D. A metal rod is inserted at the beginning of the weaving to show the straight grain of the fabric and establish a two-dimensional plane reference. The flexibility of the textile allows a different presentation with each new exhibition of the piece. This corpus refers to yarn dyed patterns drawing on decorative and fashion textile heritage. The viewer enters into a relationship with the sculptural piece through the pattern motif that reminds him of a memory.
Preliminary No.0 creates a silence, a point of reference that demonstrates the threading of the loom and the binary division of yarns.
Préliminaires, no. 1, 2018
Tissage sur métier Jacquard
Crédit photo : Marc André Jésus
Preliminaries, no. 1, 2018
Handwoven on a Jacquard loom
Photo credit: Marc André Jésus
Préliminaires, no. 2, 2018
Lin, coton, acier inoxydable
Tissage sur métier Jacquard
Crédit photo : Marc André Jésus
Preliminaries, no. 2, 2018
Linen, cotton, stainless steel
Handwoven on a Jacquard loom
Photo credit: Marc André Jésus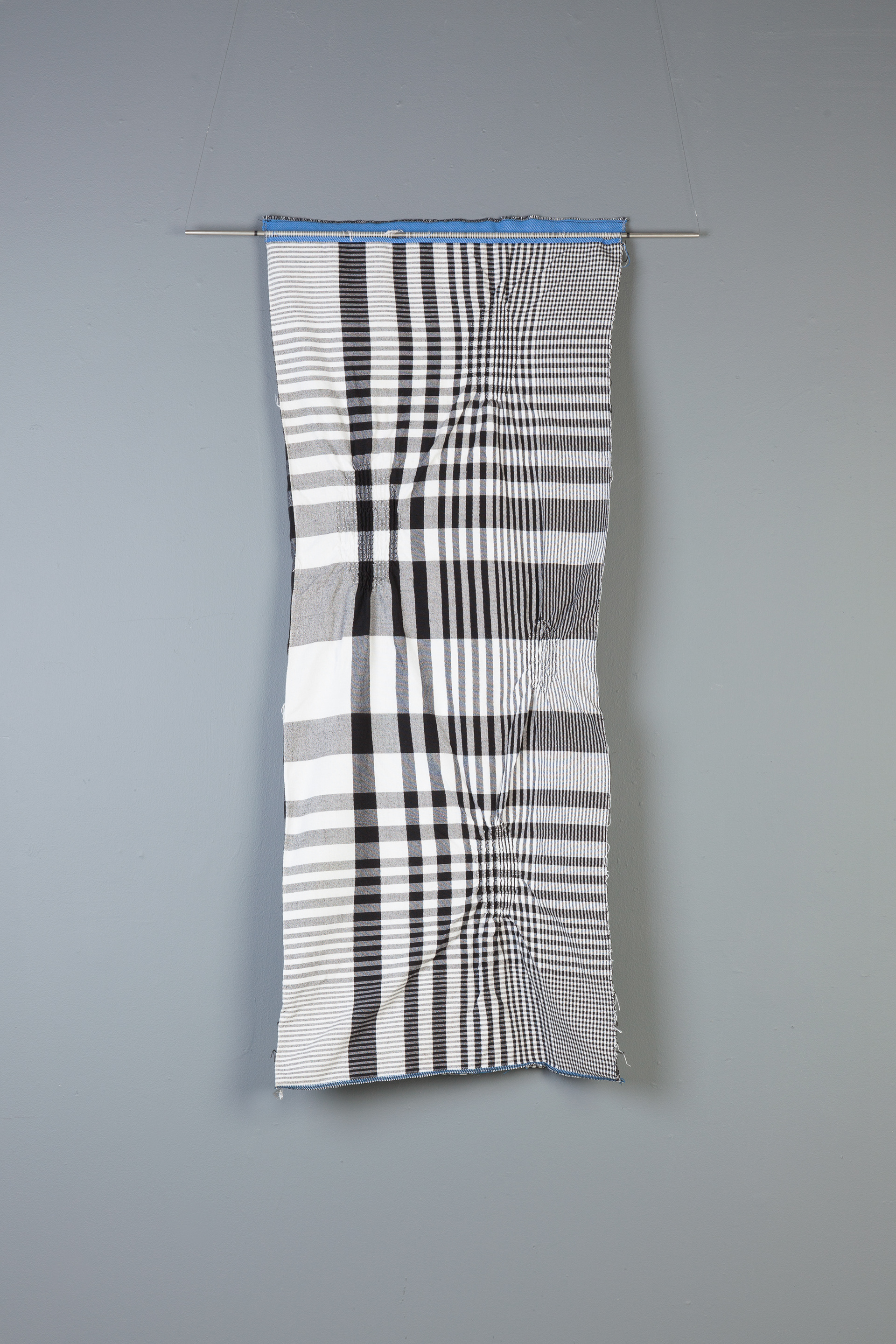 Préliminaires, no. 3, 2018
Acrylique, coton, acier inoxydable
Tissage sur métier Jacquard
Crédit photo : Marc André Jésus
Preliminaries, no. 3, 2018
Acrylic, cotton, stainless steel
Handwoven on a Jacquard loom
Photo credit: Marc André Jésus